The demand and use of collaborative robots or cobots have increased recently. They have helped automate various mundane and challenging tasks such as welding, product conveyance, dispensing, loading and unloading, transporting across an area, and so on. The traditional robots were large, strong, and fast, which made them hazardous and inaccessible to humans. They were always fenced to avoid human interactions. However, cobots are comparatively smaller, still, strong and more human-friendly. They are created from materials that assure great strength and reliability without adding to its weight.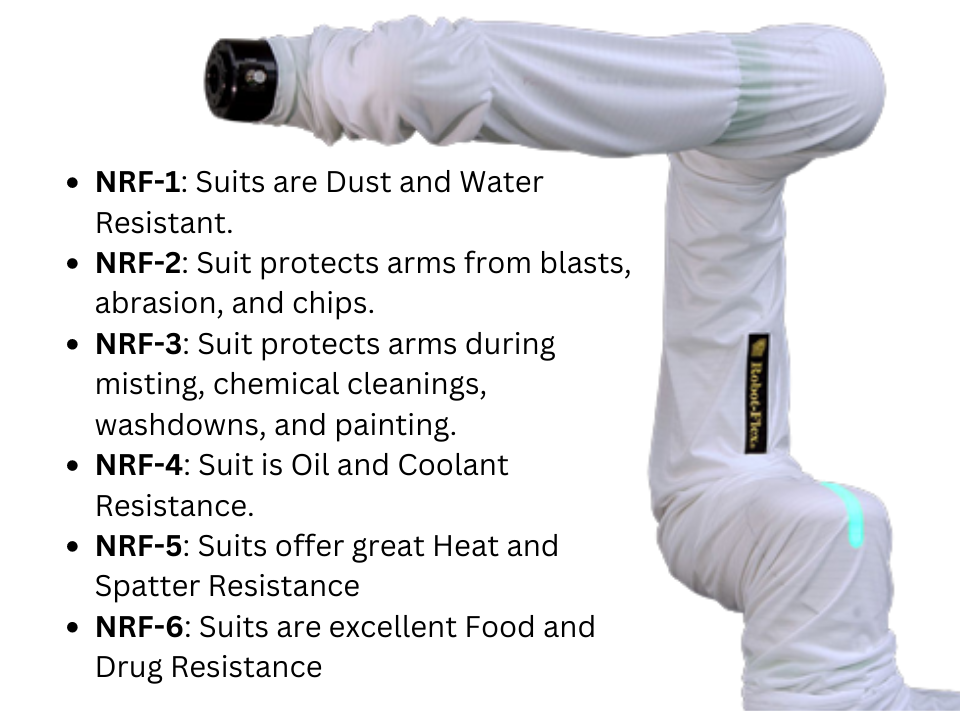 These machines are inspected and tested for a long time before being introduced to human environments. Despite these, there are always high chances of damage of cobot parts such as its arms. Environmental factors and operational environments are two key factors that affect these parts. Nowadays, robot suits are designed especially to protect the robot arms from environmental factors. NRF Series Robot Flex suits are the most popular among robot suits and have been used widely for protecting the arms of multiple branded cobots. Are you intrigued to know how these suits can make a difference? Read the post to learn more.
Important Things About Robot Flex Suits You Must Know About
NRF Series Robot-Flex Suits are designed to optimize the motion of robotic arms while minimizing the impact of environmental factors on them. These suits are developed following the best practices of manufacturing and combining traditional and 3D printing technologies. The following features of these suits have increased their demand among cobot manufacturers and company owners who use these cobots.
These robot suits can be easily put on and removed from the robotic arm.
They are available in six types of materials of different thicknesses ranging from 0.54mm to 1mm. These suits are numbered from NRF-1 to NRF-6 based on the thicknesses.
The properties of these suits differ according to their thicknesses. For instance, the NRF-1 suits are 0.90 mm thick and assure excellent dust and water resistance. However, NRF-6 suits are 0.54mm thick and assure excellent food and drug resistance. These suits are used to cover robotic arms used in food and drug processing applications.
The Robot Flex Suits are made from specialized materials, which assure excellent durability, reliability, and reduced repair and maintenance costs.
The material of construction coupled with ergonomic designs help ensure high protection from accidental cutting, as well as shock, heat, dust, oil, water, and other contaminants.
These flex suits create excellent condensation barriers in various challenging factory environments. This helps protect the cobot arms from getting affected by rust and other factors, which generally affect in such environments.
These robot suits offer improved griping as well as hand mechanics sensor cover.
NRF Series Robot Flex suits are compatible with cobots from manufacturers such as FANUC, TECHMAN, DENSO, MITSUBISHI, YASKAWA, and UNIVERSAL ROBOT.
Nabell's robot suits are designed and perfected over years of research. They have been successfully implemented in various manufacturing facilities. You can get in touch with the team at Nabell USA Corporation to know more about NRF Series Robot Flex Suits.