Protecting devices from environmental elements and ensuring their non-stop performance is an important requirement for medical device manufacturers. They accomplish this using various types of bellows, which perfectly seal the device assemblies or components of medical devices. These bellows differ from other industrial bellows in terms of the designing standards and precision.  Medical equipment and devices manufacturing are strictly regulated under various standards and they demand an extraordinarily high level of precision, as millions of lives are dependent on them. Is that all? No, there is more to it. This post discusses everything you would like to know about them.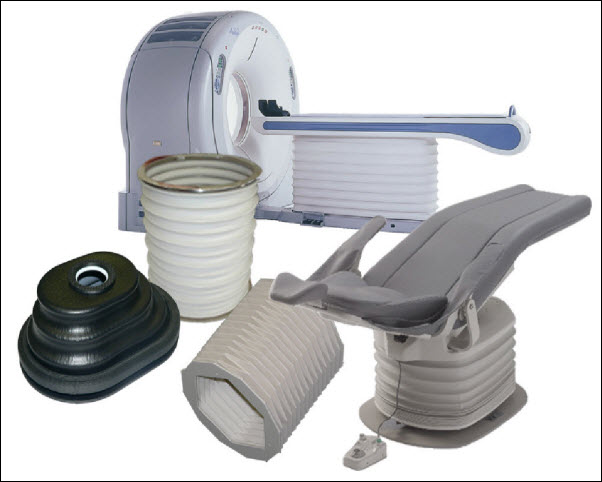 A Discussion on Various Materials Used to Build Medical Bellows
Today, you will find many medical bellows manufacturers who may provide you custom medical bellows in different materials. As said, unlike other industrial bellows, these bellows are mainly made of FDA-approved materials, and are designed in adherence to the national standards of the location they are intended to be used. The following are a few common FDA-approved materials chosen for building medical bellows:
PVC-coated polyester: This material lends excellent tensile strength to bellows, and helps boost its thermal capabilities.
Polyurethane-coated nylon: This material is lightweight, flexible, water resistant, and tear resistant. All these qualities make this material one of the unique choices for creating medical bellows for equipment that is expected to perform for a long time in various adverse conditions.
Neoprene: This FDA-approved rubber material is known for its smooth finish, and can easily resist abrasion, grease, and oils. It can also resist sunlight, ozone, and oxygen aging.
Chloroprene Rubber: This rubber material assures a good balance of chemical, thermal, and mechanical properties. The material offers excellent chemical and thermal stability, and can perform across a wide temperature range.
Urethane-coated Nomex: Urethane coating is applied to Nomex to improve its mechanical properties. Urethane-coated Nomex is used for medical bellows manufacturing, as well as several other medical industry applications owing to its distinct advantages such as flame retardant properties, moisture and stain resistance, and anti-fungal and anti- bacterial properties.
Thermoplastic Polyurethane (TPU): It is one of the most versatile FDA-approved thermoplastics, which is well-known for its excellent mechanical properties. The material offers excellent toughness, tear and cut resistance, abrasion and chemical resistance. TPU is widely used for making bellows and several other medical components.
Viton: This material is known for its excellent corrosion and chemical resistance, and can easily withstand high temperatures. These properties make it an ideal choice for making bellows for machines, where they may be subjected to heat and chemicals.
In addition to these materials, many medical bellow manufacturers also provide bellows with anti-microbial finishes, and in custom colors to meet your requirements.
What Are the Applications of Bellows in the Medical Industry?
Many medical equipment and devices utilize bellows for their regular functioning. Do not be surprised if you see them in any of the following:
Robotic arms and X-ray machines
Surgical and medical tables
Respirators
Dental chairs
Scanning imaging machines
PET machines
CAT scan machines
Portable infusion pumps
Life support circulation pumps
Knowing the high standards required in the medical industry, you must source these bellows from trusted custom medical bellows manufacturers like Nabell USA Corp. The company has an ISO 9001:2015 certification and provides custom medical bellows in various material constructions, designs, and specifications to meet medical requirements. These bellows are provided with a zipper or retrofit, which can be easily removed during maintenance. As one of the leading medical bellows manufacturer in the US, the company adheres to FDA compliance and UL94 VTM standards, which enables it to assure quality-driven and precision designed medical bellows.