Bellows are devices, which are an advanced version of a flexible bag. They are specifically designed and used across industries to safeguard various machines and equipment. They expand and contract to allow varying protection, a strong gush of air to enter and exit for positive/negative pressures and additional structural over a simple round or square shape. Bellows in general are used to cover machines, equipment, and walkways in industries to prevent them from damage and/or to protect life. Polygonal bellows are no different, except that they are polygonal in shape, and hence can be designed fit in small spaces where round or square bellows can't make it. The shape depends on the requirement as we all know that polygon could mean any shape from a triangle, pentagon, octagon, hexagon, and so on. This post talks about polygonal bellows, their benefits, and applications.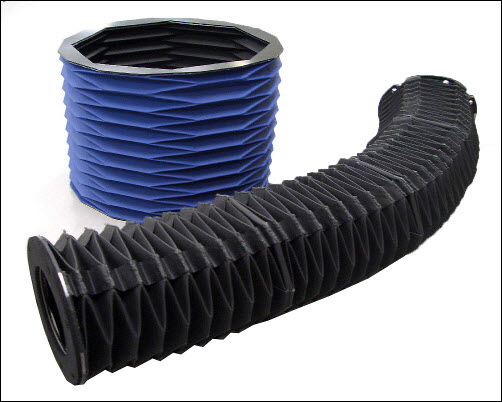 Basic Information About Polygonal Bellows
Polygonal bellows are made of more than two types of materials. The base materials used to make polygonal bellows are multiple such as polyurethane, aluminized Kevlar, PVC coated polyester, neoprene coated nylon, and so on. Some of these materials along with high-quality fabrics are used in their making. They are made using either of the following techniques:
RF welding
Sewing
Folding techniques
Thermal welding
They have a multilayer construction comprising the core selected materials and the inner and outer fabric layers. Usually, their thickness ranges from 0.1mm to 2mm, depending upon the application requirements.

Few Valid Reasons for Choosing Polygonal Bellows for Your Next Application
There are many benefits of using polygonal bellows. Here are some of them:
They are especially useful where a regular round or square bellows requires more structural integrity.
They offer flexibility as well as dimensional stability.
They can be resistant to light, heat, chemicals, abrasive materials, and extreme work conditions in an industrial and scientific unit.
You can have several layers of laminations, depending on the requirements
They offer the required aesthetic appeal.
There are several variants of these bellows such as combination folds, perforated folds, and so on. Most manufacturers offer custom colors as well.
Its length and compression capacity can be customized to suit your requirements.
They are lightweight yet sturdy.
They are useful; for horizontal as well as vertical applications, and are easily mountable in X, Y or Z axis.
The lamination on these bellows enhances the adhesion between the inner and outer materials.
They can protect the machines from dust, dirt, contamination, spillage, leaks, and abrasive fluids.
They also can offer airtight protection against oils, water, moisture, emulsions, and so on.
Applications of Polygonal Bellows
There are several application areas of polygonal bellows. Here are some of them:
Laser cutting tools
Linear motion devices
Clean rooms
Machine tools
Robot arms
Measuring machines
Lift tables
Piston rods
Plasma cutters
Water jet cutters
Lathes/Drills and Mills
If you are looking for polygonal bellows for your application, ensure you source them from a reputed manufacturer and supplier who can understand your requirements. Nabell USA Corp is a well-known way covers and bellows manufacturer committed to quality. The company has been delivering polygonal bellows across diverse industries, since 1998. They have an excellent team of design engineers, ready to talk to you,who make cost-effective, robust and durable bellows.