Today, several labor-intensive sectors such as agriculture, pharmaceutical and medical, pulp and paper, mining, and others, use advanced machines to accomplish their daily production need. In most of the industries mentioned above, these machines operate in an environment exposed to dust, debris, water, fire, spillages, and contaminants. In addition, most of these machines are positioned near to each other or along the aisle; therefore, it is challenging to use static enclosures to protect parts. This is where protective way covers make a significant difference. There are different types of way covers in use today, and accordion way covers are popular among them. Accordion way covers are expandable, elastomer covers manufactured to protect rails, shafts, screws, and other machine components from abrasion and contamination. These way covers protect the machines and guarantee their long lifespan. Are you intrigued to know more about accordion way covers? This post describes accordion way covers in detail. So, stay tuned.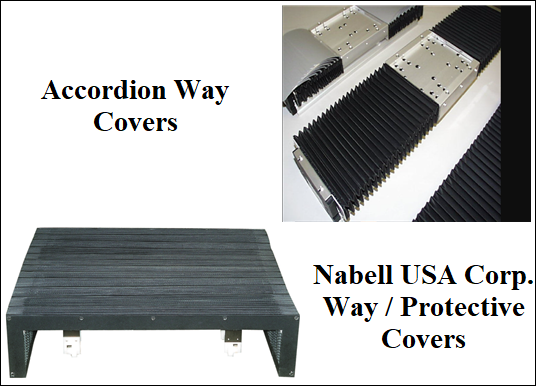 Accordion Way Covers: Introduction and Features Explained
As discussed earlier, accordion way covers are machine accessories designed to protect the machine from fungal growth, moisture, contamination, and the overall harsh industrial environment. As the term accordion implies, these way covers much resemble the musical instrument, wherein the movement of pleats allows the flow of air. Featuring a series of pleated sides, these way covers can be available in various shapes, such as round, rectangular, square, and so on. Square and round accordion way covers can have four closed sides or three open sides and one closed side. Accordion way covers are constructed using high-quality materials, which are light in weight. The list may include polyvinyl chloride (PVC), treated synthetic fabric, laminated polyester, aluminized glass fiber, foil ply rubber, rubberized fabric, and so on. Most accordion way covers are stitched and sewn, while others comprise molded materials. These way covers are ideal for small spaces or odd-shaped areas owing to their high compression ratio.
Many beneficial features of accordion way covers have contributed to their immense popularity. The following are some important
Accordion way covers are constructed using superior quality synthetic materials. Thus, they are long-lasting and can withstand extreme temperatures up to 1000 degrees celsius.
They offer good resistance to all cutting oils and coolants due to their excellent temperature tolerance.
Accordion way covers can be mounted and removed easily. They feature several mounting configurations and may be tapered at both ends.
They are low maintenance, and hence cost-effective.
Applications of Accordion Way Covers
Accordion way covers find uses across industries. Here is a list of a few important ones.
Aerospace and Marine
Refinery
Petrochemical
Steel
Pulp & Paper
Food & Beverage
Wood
Aluminum
Plastics
Water and Irrigation Systems
Pharmaceutical and Medical
Housing Equipment
Salt and Mineral Mining
Semiconductor and IT
Automobile & Construction Machinery
While this post may give you an idea about the importance of accordion way covers, it is imperative to source these way covers from a reliable manufacturer and supplier. Nabell USA Corp stands tall among its other competitors. The company is a well-known manufacturer and supplier of bellow covers in the US. Aside from accordion way covers, Nabell also offers superior quality telescopic bellows covers, protective steel telescopic covers, CNC machine way covers, and more.